OWL Bikes offers quality refurbished bikes at great prices - while offering work and training opportunities for local disabled people.

The shop, which is based at Papworth Trust's Cambridge in Hawthorn Way, sells refurbished bikes and accessories to the local community as well as carrying out repairs.

It relies on the generosity of people donating their old bikes with all funds generated going back into supporting the work of OWL Bikes.

The Government has now opened up its third wave of the Fix your bike scheme. OWL Bikes has now registered and can accept these vouchers. For more information: Fix Your Bike Voucher Scheme: apply for a voucher - GOV.UK (www.gov.uk)
*****
How we support disabled people
OWL Bikes supports disabled people with employment and life skills. These include:
We offer training opportunities around mechanics and customer service delivery.
Working at OWL Bikes helps build life skills which disabled people can use in everyday life – improving confidence and social interaction, for example.
Future plans include setting up an eBay shop which will enable disabled people to gain valuable IT skills.
OWL Bikes will also link up with Papworth Trust's employment team to look at other volunteering or employment opportunities.
We want to use OWL Bikes as a springboard for further opportunities and great independence for local disabled people.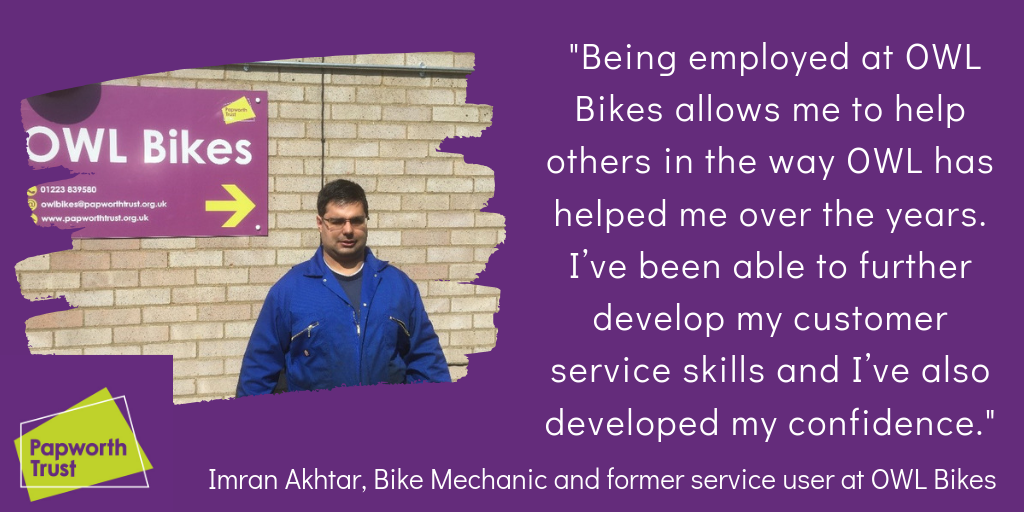 How you can help
Are you a disabled person or do you know a disabled person who would like to attend OWL Bikes? Please note, you don't need to be an existing customer with any of Papworth Trust's services.
Would you like to volunteer at OWL Bikes and support our work? Find out more about volunteering for Papworth Trust.
Do you have an old bike that you would like to donate to OWL Bikes?
If the answer to any of the above is yes, please contact dan.eaton@papworthtrust.org.uk to find out more about the opportunities within OWL Bikes.

Please click here to see the Risk Assessment
Opening Times

Monday - Friday 10:00am - 5:00pm
Saturday 09:00am - 4:00pm